Skip to Content
Bare Rentals In The Mid-Atlantic Region
Rent a Bare Crane from LR Willson & Sons
We all know that cranes and other construction equipment are a significant investment. LR Willson & Sons offers bare rental services in Gambrills, MD. In many cases, bare crane rental makes more sense than purchasing the equipment outright. We make the equipment rental process easy and affordable for businesses of all sizes. Bare rental includes our new or used piling and drilling equipment, including full lessee responsibility for the operation, regular maintenance, insurance, and consumables. We offer both short-term and long-term bare rental contracts. Learn more about our rental service and get in touch with us for your free estimate.
Multiple Types of Cranes for Rent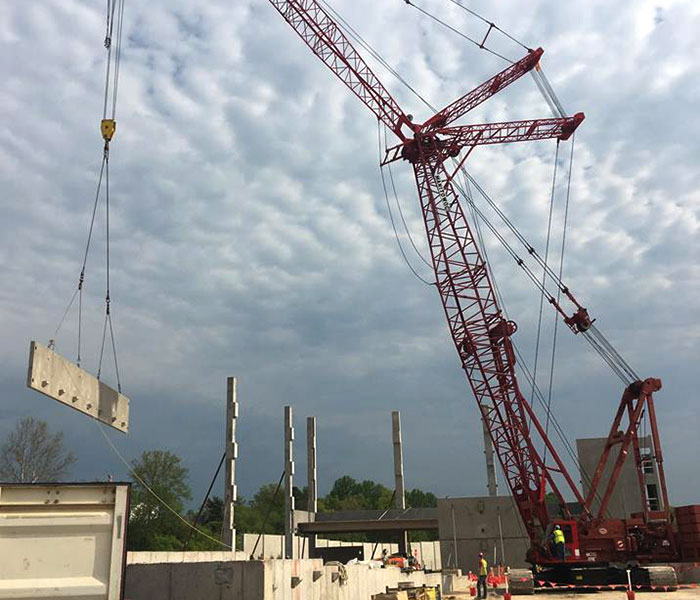 You can count on LR Willson & sons for all your crane rental needs in Maryland. Whether you're new to the industry, are doing a one-off job, or your company-owned equipment is not getting the job done, we offer a crane rental service you can rely on. We offer multiple types of bare crane rentals, including carrying deck crane models, all-terrain cranes with boom lifts, crawler cranes, rough-terrain cranes with various capacities, grove truck-mounted mobile cranes, and more. We also offer the following bare rentals:
Hydraulic Truck Cranes – Used to lift heavy loads, hydraulic truck cranes feature a truck that balances the crane while lifting massive loads to tall heights. We offer hydraulic truck crane rentals to help you get the job done right.
Hydraulic Rough Terrain Cranes – These cranes are designed to access and get the job done in confined lifting areas. Rough terrain cranes can work and travel on unimproved work sites. Hydraulic rough terrain cranes are ideal for a construction site with dirt or uneven or rocky terrain.
Lattice Boom Truck Cranes – These operated cranes offer the strength of crawler cranes combined with the improved ability to distribute the load with outriggers.
Lattice Boom Crawler Cranes – Often used for energy projects or large-scale construction, lattice boom crawler cranes are heavy-duty machines that can do serious jobs.
The Benefits of Bare Rentals
So, why should you choose bare crane rental for your upcoming project? Bare rentals provide access to the equipment you need without the cost of ownership. You can focus on your business without having the burden of costly expenditures and equipment financing, not to mention repairs and maintenance. Our experts take care of any maintenance, and your crane rental will be much more affordable than purchasing new equipment. Our safe equipment rentals offer peace of mind, allowing you to get the job done safely and efficiently.
Why Choose Our Team for Bare Rentals?
The team at LR Willson & Sons are experts in delivering smart and efficient rentals for heavy lifting jobs. We have the knowledge and expertise needed to recommend the correct equipment for your needs. Our fleet is well-maintained and delivers outstanding performance. You can rest easy knowing that you are utilizing the best equipment in the industry for a fraction of the price of purchasing it outright. We offer crane and equipment rentals, rigging, trucking and hauling, and storage services, and much more. Contact us today to get started with your free estimate.