Skip to Content
Hydraulic Rough Terrain Cranes in Gambrills, MD
Hydraulic Rough Terrain Crane for Rent
For nearly 50 years, the team at L.R. Willson & Sons has provided hydraulic rough terrain cranes to much of the Mid-Atlantic Region. When you need crane rentals in Annapolis, Baltimore, Washington, DC, or select areas of Northern Virginia, we're the team to call for a premier selection. In today's quick-moving construction world, a rough terrain crane is an invaluable solution for rugged, off-road projects.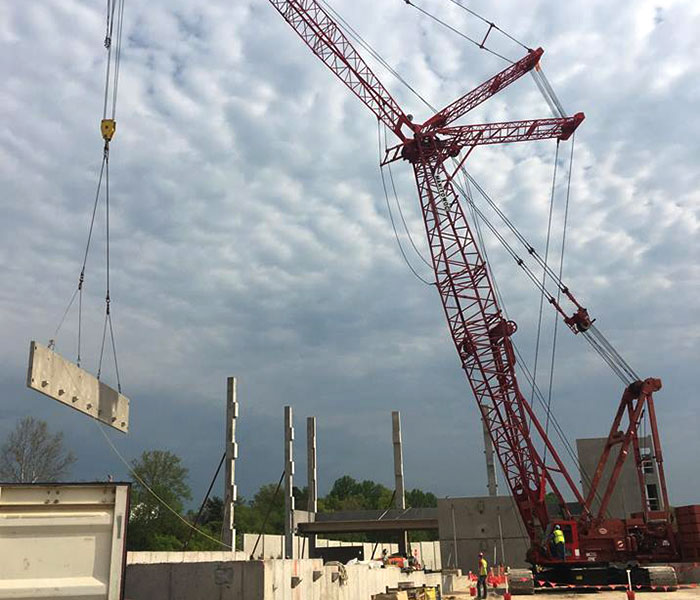 Rent a Rough Terrain Crane for Your Next Project
Our hydraulic rough terrain crane rentals are classified as multi-purpose cranes that have been uniquely designed to access and perform work in confined lifting areas and off-road work sites. As the "crescent wrench" of the crane industry, they are an efficient option for almost any project. They are relatively easy to operate since their operation and drivability are from only one cab, and oversized tires, short wheelbase, and crab steering all contribute to the overall maneuverability of the hydraulic rough terrain crane.
A Rough Terrain Crane Rental is Appropriate for Any Jobsite!
Unlike many other cranes in its class, a hydraulic rough terrain crane provides reliable service without compromising on overall power and security. This crane type offers a plethora of design advantages that make it capable of maneuvering over off-road obstacles and various surfaces with ease. The superior qualities of a rough terrain crane include the following:
Two, hyper-sized axels as compared to the three or more needed by most other rubber-tire truck cranes
Oversized tires with a wider wheelbase and all-wheel drive
Three steering modes: front-wheel steering, all-wheel centric steering, and all-wheel cabbing
Can effortlessly maneuver over uneven ground, steep grades, and muddy or snowy terrain
A larger engine that truck cranes
A more comprehensive center of gravity due to over-extending, H-pattern hydraulic outriggers
Ability to level itself properly even when the ground beneath is sloped or uneven
All these capabilities ensure that your rough terrain crane rental will be able to handle tight corners on the most uneven, steep, slick, and obstacle-strewn job sites. When you need a reliable solution to tackle even the sloppiest of job sites, a hydraulic rough terrain crane rental is the move!
Call Today to Learn More About Our Mid-Atlantic Rentals
Whether you're looking to rent a hydraulic rough terrain crane or an all-terrain crane in the Mid-Atlantic Region, the team at L.R. Willson & Sons has the perfect solutions. Our rough terrain crane rentals are rough and ready solutions meant for tackling rugged applications and surfaces. Call us today to learn more about our renting options.