Skip to Content
Sky-High Tower Crane Rentals in Gambrills, MD
Your Trusted Source for Tower Crane Rental Services
When the sky's the limit, you need a crane that can reach new heights. At L.R. Willson & Sons, we offer dependable tower crane rentals for virtually any types of construction projects in Gambrills, MD and the surrounding areas. With exceptional carrying capacities, with some models being able to lift over 30 tons, our stock is sure to have a tower crane that suits your project needs. From mining to shipping to construction, our tower cranes are perfect for a wide range of industries. Get in touch with us today to learn more and request an estimate to rent a tower crane.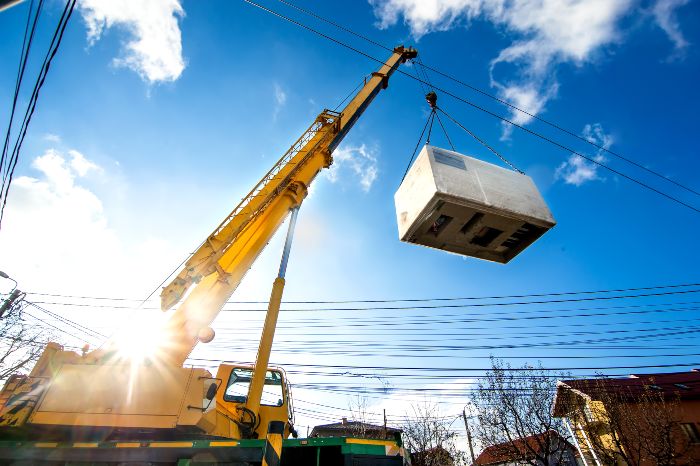 What Is a Tower Crane?
A tower crane is a type of specialized rigging equipment. Often the tallest structure on a construction site, a tower crane can lift heavy items over 1,000 feet into the air. The primary function of a tower crane is to lift and place heavy construction materials from one spot to another. With its vertical and horizontal reach, a tower crane can access hard-to-reach areas with ease.
What Is the Purpose of a Tower Crane?
In the world of construction, particularly in high-rise building projects, the tower crane quite literally stands above other rigging equipment. They are used to transport materials from one place to another on a jobsite. With its vertical reach, a tower crane can easily facilitate the construction of towering structures. Lifting heavy loads to considerable heights, they often exceed the capabilities of other types of cranes.
For all their lifting power, tower cranes are relatively compact. This makes them ideal for construction sites where space is at a premium. Unlike traditional cranes, tower cranes are designed to occupy a small area on the ground while reaching high into the sky and providing a large radius of operation.
What Are the Parts of a Tower Crane?
There are three main parts of the average tower crane. The base of a tower crane consists of a large platform that stabilizes the machine. It is placed on the ground and usually covers a wide area for maximum stability. The tower that gives the crane its name also gives it its height. The tower is there to support the boom, which is a horizontal 'arm' that extends out and away from the crane itself. It is possible for riggers to operate tower cranes using either a remote control device or manual operation. Most tower cranes can rotate 360 degrees, eliminating the need to constantly move the crane around to reach different areas of the jobsite.
How Do Tower Cranes Rentals Not Fall Over?
One would think that the incredible height of tower cranes would make them extra susceptible to wind and, by extension, being knocked over by an errant gust. However, tower cranes were built with this risk already in mind. They are uniquely crafted to stand tall amidst high winds. The base of a tower crane has ample space and is weighted down using a heavy material like concrete. For additional support, the boom of the crane is counterbalanced by an additional weight.
Rent a Tower Crane with Our Crane Rental Company Today!
When your high-octane jobsite needs a crane that can reach equally high altitudes, you can contact L.R. Willson & Sons right away to discuss our crane rental inventory. Our tower crane rentals are perfect for elevating your jobsite. No matter your industry or your project, if you need height, our tower cranes are the ideal solution. Get in touch with us today to discover our selection of tower cranes and get your rental estimate!
LEARN MORE ABOUT OUR COMPANY
VISIT L.R. WILLSON & SONS, INCORPORATED