Skip to Content

We Have the Crane for the Job
Crane Rental Services in Gambrills, MD & Surrounding Areas
Trusted Crane Specialists at L.R. Willson & Sons
Welcome to L.R. Willson & Sons Crane Rental! We are a leading provider of crane equipment rentals in Maryland, serving the Mid-Atlantic region for over 50 years. Our wide selection of riggers and rigging equipment and knowledgeable staff ensure that our customers have the proper tools to move equipment safely and securely.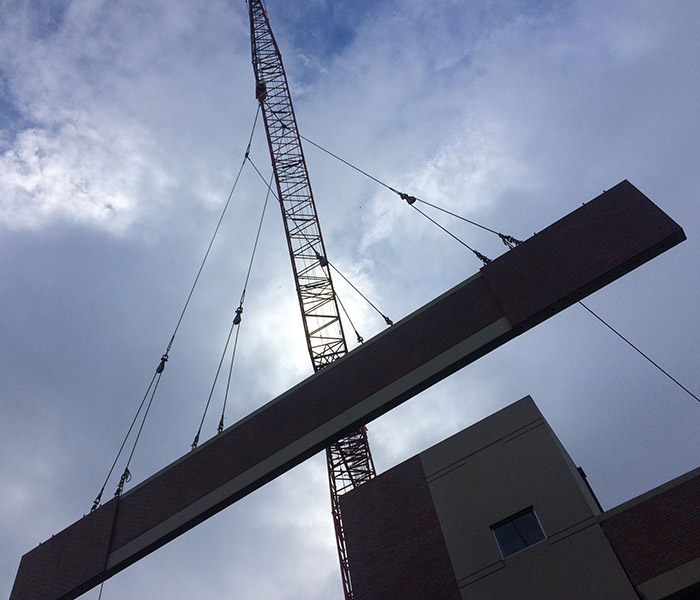 Rigging Equipment Rental Services
At L.R. Willson & Sons, we offer a wide selection of rigging equipment for rent, including cranes, hydraulic equipment, generators, industrial and engineering equipment, bulldozers, and tractors. Our team of logistic planners will work with you to ensure a smooth and hassle-free transport experience. No job is too big or too far for us to handle.
Trucking & Hauling Services
In addition to our rigging equipment rentals, we also offer professional trucking and hauling services for businesses in Maryland. Our fleet of drivers are all current with their CDL, and our trucks are regularly inspected for safe operation. We can transport rented cranes or any heavy equipment you own. Our services include loading and transport of your equipment, and we have a variety of trucking options, including dual-lane vehicles, flatbed trucks, hydraulic platforms, and gooseneck trailers to meet the needs of various industries.
Machinery & Heavy Equipment Storage
If you need a safe and secure place to store your heavy machinery or construction equipment, look no further than L.R. Willson & Sons. We offer short-term and long-term storage options in Maryland, both indoor and outdoor. Our storage facilities are equipped with 24-hour video surveillance, and our team is on hand to assist with off-loading and hauling to your job site when you need it.
We Offer a Variety of Different Cranes
We offer a wide range of cranes to meet the specific needs of your project. Whether you need to lift and transport heavy loads or construct a building, we have the equipment to get the job done.
HYDRAULIC TRUCK CRANES
These cranes combine the maneuverability and mobility of a truck with the lifting power of a hydraulic crane. They are great for lifting and transporting heavy objects and have a quick setup.
Hydraulic Rough Terrain Cranes:
These cranes are a reliable and powerful option for off-road projects, with features such as large tires, all-wheel drive, and three steering modes to navigate obstacles. These cranes can also level themselves on uneven ground and have a larger engine than truck cranes.
Lattice Boom Truck Cranes
Lattice boom truck cranes are hydraulic vehicles with the ability to lift and maneuver heavy loads, making them a versatile option for construction projects. They are equipped with a lattice boom in front of the operator's cab and have a dual-cab design with a front and rear engine.
Lattice Boom Crawler Cranes:
Lattice boom crawler cranes are heavy-duty machines ideal for large-scale construction projects requiring heavy lifting. These cranes have a tracked base and can handle a wide range of ground surfaces due to their evenly distributed weight.
Get the Job Done with L.R. Willson & Sons Crane Rental
At L.R. Willson & Sons, we are dedicated to providing our clients with the best possible service. If you are in need of reliable and efficient crane rentals, rigging equipment, trucking and hauling services, or machinery and heavy equipment storage, don't hesitate to give us a call at 410-923-6386. Our team of experts will work with you to find the perfect solution for your project. Contact us today to request a free quote.