Skip to Content
Rigging Equipment Rental in Maryland
LR Wilson & Sons Has All the Crane Rigging Supplies You Need
When it comes to moving large pieces of equipment or heavy objects, businesses rely on LR Wilson & Sons for safe and reliable material-handling equipment and crane rigging supplies in Maryland to complete the most demanding jobs. For more than five decades, commercial partners have counted on our wide selection of riggers and rigging equipment and our knowledgeable staff to ensure they have the proper tools to move equipment safely and securely. Whether you know exactly what you need or you require guidance to rent the appropriate equipment for your specific job, contact us today to find the right material handling equipment for your business.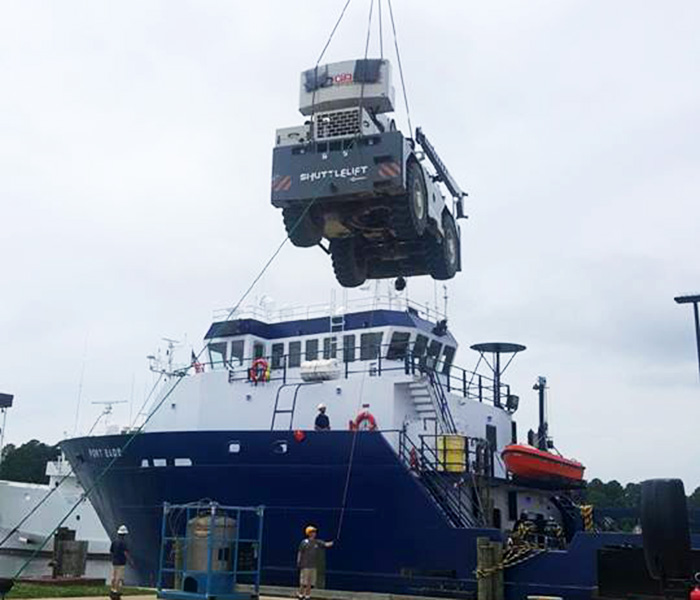 Come See Us for Complete Rigging Rental Equipment
Large pieces of industrial equipment need to be relocated at times. Whether it's for a factory relocation or a statue or monument that needs to be moved, certain items require special handling and care. Rigging equipment and rigging supply rentals from LR Wilson & Sons make all the tools necessary for safe moving available to your business. From straps and cables to heavy equipment and cranes, you will be able to safely secure and lift, push, or slide your heavy objects into proper position to get them where they need to go. Secure rigging and material-handling equipment allow you to fasten, tie up, or fortify items, so there is no damage to them or any of their surroundings.
Our Rigging Equipment Meets All Safety Standards
Safety is a top priority for all our rigging equipment rental supplies. We work with the top brands in rigging supply and manufacturing so you can be confident that you are getting superior equipment that is carefully tested and maintained to meet all Occupational Safety and Health Administration (OSHA) safety standards. Oddly sized and awkward items require special equipment to handle the task of transporting them safely. The level of difficulty can increase when things need to travel far distances or be transported in crowded streets or traffic. Working with our experienced crew not only means you'll be getting equipment that is up to the task, but our trained team will discuss your project and go over any limitations of crane equipment, ensure you have the proper size slings, and most importantly, that everything we supply is within the safe working load of your items. While we want to ensure the safe transport of your materials, people's safety is our biggest priority.
Advantages to Crane Rental or Leasing Equipment Vs. Buying
As a contractor, you may have an occasional need for cranes and rigging equipment to move large items or heavy machinery. Renting or leasing may prove to be a better option than buying your own equipment for a couple of reasons, such as:
Cost Savings: Depending on the type of crane you need, the cost to purchase one can be anywhere from $15,000 up to $500,000. If you only have an occasional need for a crane, a purchase will not pay you back, so if you know you won't recoup the money, you're better off renting when the need arises.
More Flexibility: Buying a crane limits your workload. Not all cranes are created equal, and not all can handle the same job. If you wait to rent or lease a crane for specific jobs, you ensure that the crane you're getting will meet the specific job criteria.
Common Rigging Equipment Mistakes to Avoid
Our goal is to ensure that our customers get the most satisfaction possible out of our crane and rigging equipment rental services. One thing we won't do is take your money and send you off without absolute certainty that our equipment will meet your requirements. We also have an incredibly knowledgeable and experienced staff who can answer any questions you have about the equipment and its safe operation. While you're considering crane and rigging equipment rental, here are some common mistakes to avoid once you do have your equipment:
Not Reading the Manufacturer's Instructions
Not Having Any Training
Selecting the Wrong Slings or Hardware
Lifting Loads Over the Crane's Limit
Not Taking Care of the Equipment
Not Performing a Thorough Equipment Inspection
Request a Quote for Crane and Rigging Equipment Rental
If you require material handling equipment in Maryland to transport heavy or odd-sized objects or pieces of industrial equipment, LR Wilson & Sons offers a variety of choices to get the job done. With top-quality operation equipment, rigging supplies, trucking and hauling, storage, and a team that can educate you and guides you to find the right tools for your move, we are the best choice for commercial partners in the Mid-Atlantic region. Contact our team for an estimate today!
LEARN MORE ABOUT OUR COMPANY
VISIT L.R. WILLSON & SONS, INCORPORATED